Walk Jog Run Cycle
About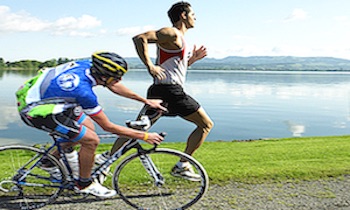 Walk Jog Run Cycle application For Apple TV & Apple TV 4K is a product for runners from
Online Sport Studio
Walk Jog Run Cycle is a fun Experience allow you to join a game like race events with many other friends and users allover the world. Virtual travels takes you to exciting new cities to join a races or a marathon with your friends within the comfort of your living room. No more fees or contribution are required you can race and play with our professional 3d team race buddies to simulate a real challenge. Listen to your own favorite jogging music with the nature ambiance of the game to produce a mix of real natural road running experience. Using the latest 3d technology HDR to mix real city views with the 3d simulated team players and their rides all presenting a fabulous view you never have experience before on HD/4K TV. Walk Jog Run Cycle gives you a multiple options to do your sport, health & fitness, Running in place, use a treadmill, use an indoor cycle or whatever it takes to move your body and legs. No need to be an expert runner or to buy any extra equipments to join, Put the siri remote in your pocket and move, thats all it takes to start.
Learn More
Features
1

Take Your Indoor Sport To The Street: The Siri Remote Is In Your Pocket Or Attached To Your Body Anywhere (Shoulder Or Legs) Is All What You Need To Start This Exciting Experience.

2

Is It A Sport Or A Video Game? Challenging Others, Expand Your Racing Team, Upgrade Your Rides To Roller Skate, Bicycle, Or Segway To Gain More Speed, Earn Game Cash And Gems, Unlock New Levels And Explore New Roads, it's More Fun As A Game As It Is As A Sport.

3

Simulation Is One Thing But Reality Is Everything: Several 4K Quality Stunning Real Cities Are Opening It's Doors For You To Explore, Simulated Teams and Rides Are Awaiting to Accompany You During Your Fitness Jog Training With Around 1 Giga Bytes of High Quality Simulated Characters And Rides To Ensure You Are Enjoying Your Sport And Game Experience Ultimately.

4

Online race server can handle a huge amount of racers data calculating Ranks, Speeds, Distances, Time, as accurate and as fast as it could be.

5

Never Stop The Music: Enjoy Your Favorite Music Tracks While Doing Sport Was One Of The Things We Insist To Ensure During Your Sport Game, While Running The Music From Other Apps Will Not Stop But Mixed With The High Fidelity Audio Road Effects, Feet Steps, Cycling And Surrounding Environment, This Ambient Mix Level Is Totally Controlled From Settings Menu Allowing You To Enjoy Your Casual Running Habit As You Normally Do In Reality.

6

No Strings Attached: No Special Connections Or Extra Wireless/Wired Hardware Is Ever Needed, Running In Place Or Using Indoor Sport Device (Treadmill, Indoor Bike, Power Horse, etc.), We take the Speed From Your Own Body Movement To Move Your Character In Every Level On Every Ride On The Road,

7

Versatility And Dynamic: Different Games Styles Of Sports, We Assure You To Never Have Enough Of Walking, Jogging, Running Or Cycling With 548 Levels Of the Game Are Awaiting to Challenge, Several Races, Different Rides, And A Large Running Team Is The Sport You Need.

8

Workout Sport That You Can Enjoy As A Game, Was Our Challenge. Now With This App, Indoor Sports Are No Longer Boring Routine But Rather Exciting Act For Fitness & Health.

9

Walk, Jog, Run, Cycle, This Is What You Have to Do And Thats What You'll Get.